Landscapers
Serving Vancouver Island
---
Professional Landscaping
---
Over 25 Years Experience
Projects of All Sizes and Types
Residential and Commercial
Driveways – Patios – Walkways
Block Walls – Natural Rock Walls
Lawns – Gardens – Planters
Free Estimates
Based in Nanaimo BC
Hardscapes and Softscapes
---
Sub Stone Contracting is a landscaping company specializing in stone pavements and landscape walls. We construct paving stone driveways, patios, and walkways, as well as Allan Block walls, stairways, fences, and planters.
We also build natural rock walls, slate patios, fire pits, and outdoor fireplaces. And we add the finishing touch to your landscaping project by installing lawns, adding soils or mulch, or planting trees, shrubs, and ornamental plants.
At Sub Stone Contracting we work with you to find the colors, shapes, textures, and designs you want for your dream yard. And we can advise you of the best products and materials for any particular job.
Our goal is to assist our customers in enhancing their property value with superior workmanship and quality materials.
Sub Stone Contracting is committed to maintaining the highest standard of customer service and professional results. Call us for high quality installations – all with a warranty.
We are fully insured for commercial liability as well as licensed and insured by WCB.
Learn more about our driveways and landscaping walls.
We sub-contract. Please see our Commercial page for more information.
---
Serving Central Vancouver Island
Nanaimo
Parksville
Qualicum
Courtenay
Ladysmith
Duncan
Cobble Hill
Mill Bay
---
Stone and Brick Driveways
---
Sub Stone Contracting highly recommends the use of brick or concrete paving stones for your driveways, walkways, patios, and courtyards. Our professional and experienced team of installers have all the knowledge and expertise to install a finished driveway that will be the envy of your neighborhood.
Paving stones, also called pavers or interlocking stones, are a great way to add flare to your outdoor space. Due to their versatility in size, shape, and color, paving stones can be laid in a variety of patterns that allow you to create almost any shape or design. They come in a range of materials including concrete, clay brick, cobblestone, or natural stone.
Interlocking stone surfaces have tremendous curb appeal and real intrinsic value. In harsh climates, paving stones are more durable than either asphalt or concrete. And you don't have to worry about future resurfacing costs.
Pavements of interlocking stones are flexible, stable, and clean looking. They can shift with changes in the earth due to subsidence or tree root growth and, because of their flexibility, they are not prone to cracking like solid concrete or asphalt driveways.
Create an elegant and decorative front yard landscape by adding a paving stone driveway or sidewalk. And for the back yard, add brick or stone patios and cobblestone garden paths.
See our DRIVEWAYS – WALKWAYS – PATIOS for portfolio examples.
Retaining Walls
---
Sub Stone Contracting is a certified Allan Block wall installer with decades of experience. Our wide variety of retaining wall products come in many assorted styles, colors, and textures to fit with your ideal landscape or landscape designs. We will be happy to show you a range of options.
Retaining walls can be used on either flat ground for structural purposes or sloping ground to function as terrace walls and are a popular choice for homes built on hills or sloping property.
Landscape blocks are also used to build planter areas, patio walls, freestanding stone fences, and even fire pits and outdoor fireplaces.
Allan Block walls are mortarless systems of interlocking blocks that are durable, stable, and attractive. Whether it's a low patio wall, a garden wall, or a tall landscape wall, we build them all.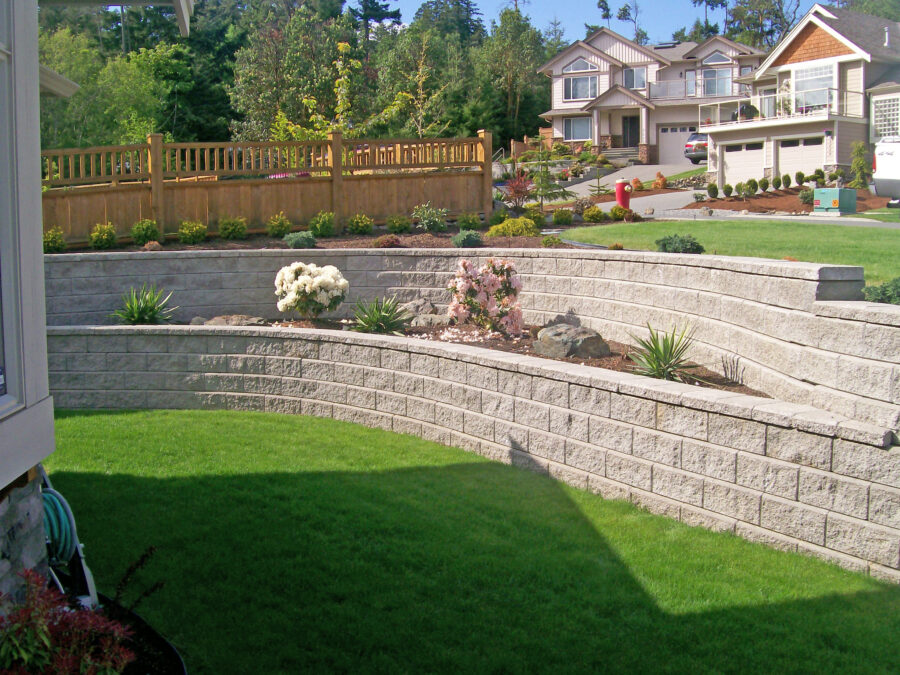 Sub Stone Contracting builds impressive and fashionable landscape walls using a variety of shapes and colors. Allan Block retaining walls are the perfect blend of performance and style, creating a beautiful, smooth, and fluid finish with maximum durability.
One of the unique benefits of an Allan Block wall is the number of options available for ending and stepping down retaining walls. You can turn the ends of the wall into the hillside with smooth flowing curves, or create corners, or construct simple down-steps. No other wall system gives you as many choices for a beautiful finish.
When selecting the right wall for your outdoor landscape, it's important to know what type of block and construction method you need. Let us help you decide on the right choice for your property.
See our different pages for portfolio examples. RETAINING WALLS – STAIRWAYS – FENCES – FIREPITS – LAWNS & GARDENS
Product Brochures
You can preview many examples of paving stone and block designs, colors, and textures in the product supplier brochures listed below. These are in PDF format and best viewed on a tablet or PC. We also have some available in print form. If you would like a copy, please do not hesitate to contact us. We will be happy to help you decide on the right product choices for your property.
---
Local Suppliers
Sharecost Rentals & Sales – Blocks, Pavers & Natural Stone