Lawns & Gardens
---
Apart from driveways, walls, and patios, Sub Stone Contracting provides all kinds of landscaping earthworks, including adding soils, mulch, and laying sod for lawns. We plant trees, shrubs, and all types of ornamental plants to add color and charm to your home.
Stone planters or planters created between terraced walls make an attractive addition to your landscape. See the photos below for an example of our work.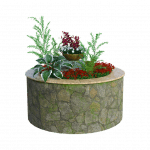 We can give you lots of good ideas to enhance the look of your yard or, if you have your own ideas, we will work with you to fulfill your dream garden landscape.
Flower beds, shrubs, and bushes can add depth and structure to the shape of your property. Glamorize your planters with the spectacular colors of flowering perennials and fill your garden with beauty year after year.
For more ideas, see our local landscape supplier in Nanaimo – Sharecost Rental & Sales.
See below for samples from our portfolio.
---
Gardens & Lawns From Our Portfolio
---
Free Estimates
Based in Nanaimo BC